The Trading Post Feed and Tack Ltd.
Box 188
3345 Island Highway,
Cassidy, B.C. Canada.
V0R 1H0.

Phone: 250 245-2115
Fax: 250 245-2186

Hours:
9 - 5:30 Mon - Sat.
11 - 5 Sundays and Holidays

Closed Christmas Day, Boxing Day and
New Years Day.

E-mail: thetradingpost@shaw.ca
Western Saddles
We pay special attention to saddle fit, both for the rider and the horse. Therefore we carry only quality North American hand-made saddles from companies who offer a variety of trees to fit different builds.
Crates 2221 Reiner
Cut out close contact skirts,
Corner Basket Stamped
Montana Silversmiths "Berry" conchos, Stainless Steel hardware
Extra deep pile saddle fleece skirt lining Soft grain-out Chap Leather Padded Seat 4 sizes, 15, 15 1/2, 16 and 17 "
2 gullet widths,
Quarter Horse or Wide.
Natural, Chestnut or Mahogany




Scott Thomas TL100
Light Trail Saddle
Equi-fit Steele Tree
Full Quarter Horse Bars
Only 26 Pounds
Natural Colour


Crates 281 Gaited Saddle
15 inch seat.
Light weight round skirted saddle.
The ground seat is carefully shaped for comfort.
Made using light-medium select saddle skirting leather.
High gullet for high withered horses.
Slightly wider than Quarter Horse Bars.
Chestnut




12" Childrens Saddle
Floral pattern,
round skirts.
$299.99
Our Saddle Trial Policy: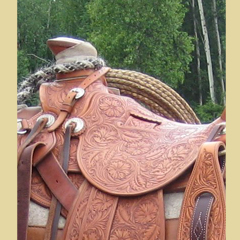 We believe a saddle must fit both you and your horse! Therefore, we almost insist you take the one you choose for a trial run. We will obtain a pre-authorization on your credit card and you'll have one week to see if it fits. We ask that you keep it in new condition.