The Trading Post Feed and Tack Ltd.
Box 188
3345 Island Highway,
Cassidy, B.C. Canada.
V0R 1H0.

Phone: 250 245-2115
Fax: 250 245-2186

Hours:
10- 5:00 Mon - Sat.
11 - 5 Sundays
Closed Stat Holidays

E-mail: thetradingpost@shaw.ca
Latest News and Announcements
June 6/13
Our 3rd Customer Appreciation Days were held May 25th and 26th. Thanks to all who attended. Congratulations to Jerry L, winner of a pair of Blundstone boots. Congratulations to all the other winners of various prizes such as Breeches, wormers, hats T-shirts, a BR product bag, Mineral Supplement 7b, horse treats, and a 1 Kg of Recovery! Here's a picture of Cantelope in his party duds. Thanks for sending us this picture Justin! You rock!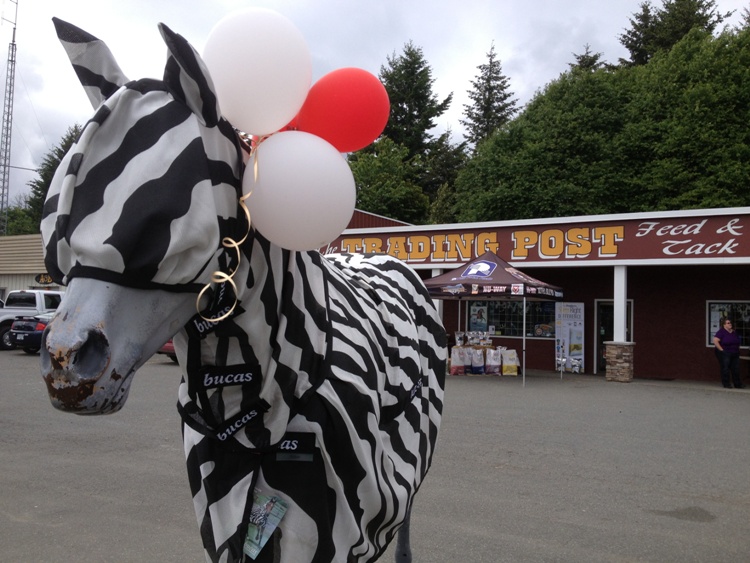 May 23/13
We are DONE!! All of our renovations, inside and out are complete and we have a whole new look. Thanks to everyone for all your patience while our renovations were in progress!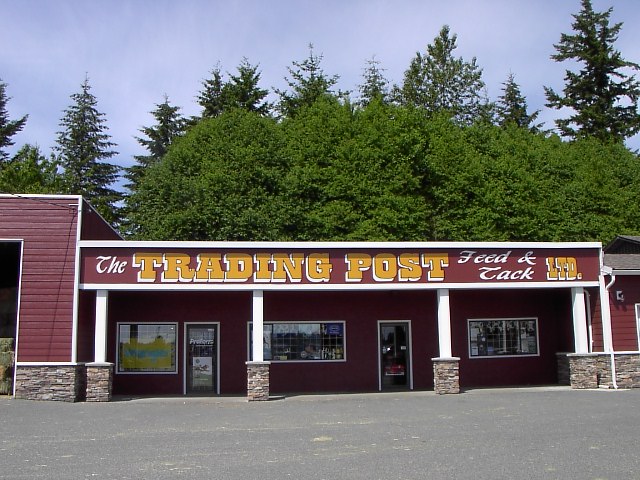 Jan/13

We joined FACEBOOK! Please check it out and like us if you like what you see!

Nov 24/12

A big thanks to all who attended our Customer Appreciation/Open House weekend on Nov. 17th and 18th! We sure appreciate YOU! Congrats to the door prize winners!

Sept29/12

We are happy to announce: The Trading Post Feed and Tack is one of the first of 12 businesses accepted under the Live Smart BC Small Business Programs to improve energy efficiency

We have always been very conscientious about recycling all paper, cardboard, plastic ,etc. but it was just not enough.... We were looking to reduce our Carbon Footprint..

The first phase of renovations is nearing completion. Ceiling insulation has been upgraded from R0(in some places)-R20 with no vapour barrier to R40 with vapour barrier. We have reduced lighting wattage by almost 3000 Watts by adding sky tunnels for daylighting and reducing and upgrading our florescent lighting. Side walls will have insulation added. While we were at it, we gave the interior a new look. The entire store has been painted and the restroom upgraded. Hopefully we will notice a huge reduction in energy consumption all year round. .

Phase 2 you ask? check back and see!

Customer Appreciation Day ! June 2/12

Thanks to all our customers for making this day a huge success! We had a great time and hope you did too! Thanks to Rick for his gourmet Cowboy BBQ.


Congratulations to our Claire Luckett! She has graduated from BC College of Equine Therapy as a Certified Equine Therapist and is now accepting new clients.

Cantelope, our world famous best dressed horse was interviewed by CTV May 30, 2012! Here's our video!




Comments:


BRAVO!!!! Lesley

Way to go Mere. Great job....you were made for the camera. Greg

What a great piece hey? Nice.

Jim

O my god that is so GREAT, I love it....nice free advertising smart people you!!!!! Trevor



What a great video about Cantalope!

Hope you don't mind that we post a link to our facebook page! Daniella


Wow! What great publicity! You seem to have a talent for television, Meredith. Smiles. I learned some interesting things I didn't know, for instance, Cantelope's name. Dianne



Hi Mere and crew! That was very sweet! Way to go Cantelope!!! Lisa

I loved it.........yeah for Cantelope..........Now he's a STAR...........LOL

Jacque


That is just ……………. F A N T A S T I C

Barrie