The Trading Post Feed and Tack Ltd.
Box 188
3345 Island Highway,
Cassidy, B.C. Canada.
V0R 1H0.

Phone: 250 245-2115
Fax: 250 245-2186

Hours:
10- 5:00 Mon - Sat.
11 - 5 Sundays
Closed Stat Holidays

E-mail: thetradingpost@shaw.ca
Horse Apparel
Why Choose Bucas?

If you would like to turn out your horse without worrying about changes or extremes of weather, avoid unnecessary rug changes, use rugs that can be easily maintained, that are tough, hard-wearing and long lasting, you will find that Bucas is the right choice for both you and your horse!
Bucas IrishTurnout Light
Our most popular blanket.
50 grams of fill.
The Irish Turnout offers exceptionally good performance and value and a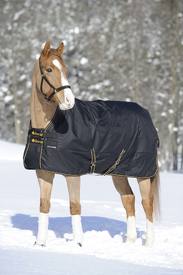 n amazing flexibility to suit the particular requirements for your horse.
The Turnout Light has a 50 gram layer of polyester fill between the lining and outer fabric.
The Turnout Medium has 150 grams of fill and the Extra has 300g of polyester fill.
The Classic-Cut Turnouts come with attachment points for the Irish Turnout Combi-Neck allowing full protection of the neck.

Tough rip stop outer
Breathable Nylon lining
Shoulder darts ensures an excellent fit and plenty of shoulder room. Secure front strap with hook and loop over-closure Attachment points for a Combi-Neck (Classic Cut)
Elastic Leg Straps
Combi Neck: Neck Cover that can easily be attached to the Classic Cut rug to provide additional protection. Nylon lined.
Lining: Breathable Nylon lining and 50g of Thermobonded polyester insulation.
Colour: Black with Gold/Black Trim

Classic Cut: 42" – 86"

Bucas Irish Turnout
150 grams of fill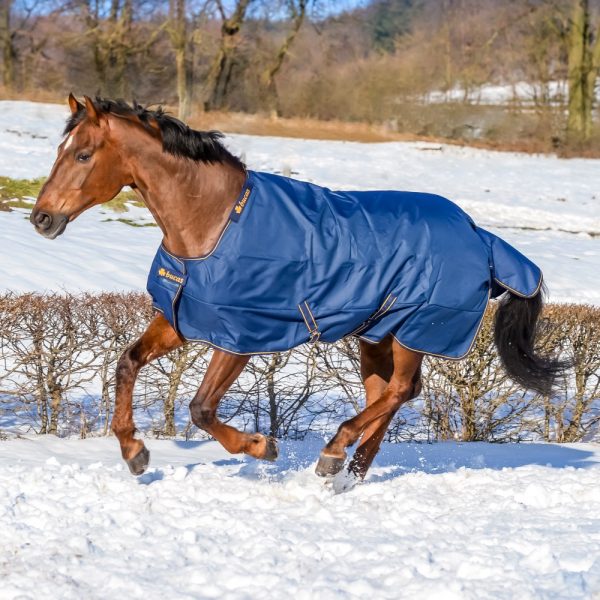 The Irish Turnout offers exceptional value for money and the guarantee of Bucas quality.
It is available as a Medium weight rug with 150g of insulation. Well designed and easy to use, the Irish Turnout will keep your horse comfortable and your mind free of worries!

Waterproof and breathable rip-stop outer,
Breathable nylon lining
Shoulder darts
Criss Cross surcingles
Tail flap
Leg straps
Lining Breathable Nylon lining and 150g of thermobonded polyester insulation
Colour Navy with Gold/Navy trim
Sizes 42" – 84"
Bucas Irish Turnout Extra
Same as Irish Turn Out Light but has
300 grams of fill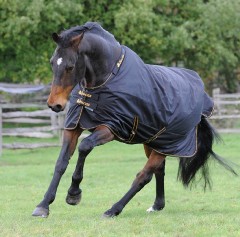 Turnout Extra: Breathable Nylon lining and 300g of Thermobonded polyester insulation
Bucas Fly Sheets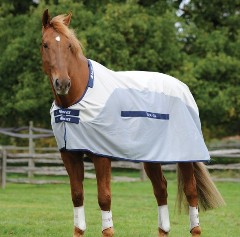 Buzz Off Rain
The Buzz-Off Rain is perfect when the weather is changeable. The upper part of the Buzz-off Rain is waterproof and breathable while the lower part is made of Buzz-off fly sheet fabric.
Waterproof and breathable upper with an additional Teflon outer shield
Shoulder darts ensure an excellent fit and plenty of shoulder room
Mesh lining on upper part to help maintain the circulation of air underneath the rug
Soft nylon lining of the shoulder area to prevent rubbing. Leg straps included
Attachment points for a Combi-Neck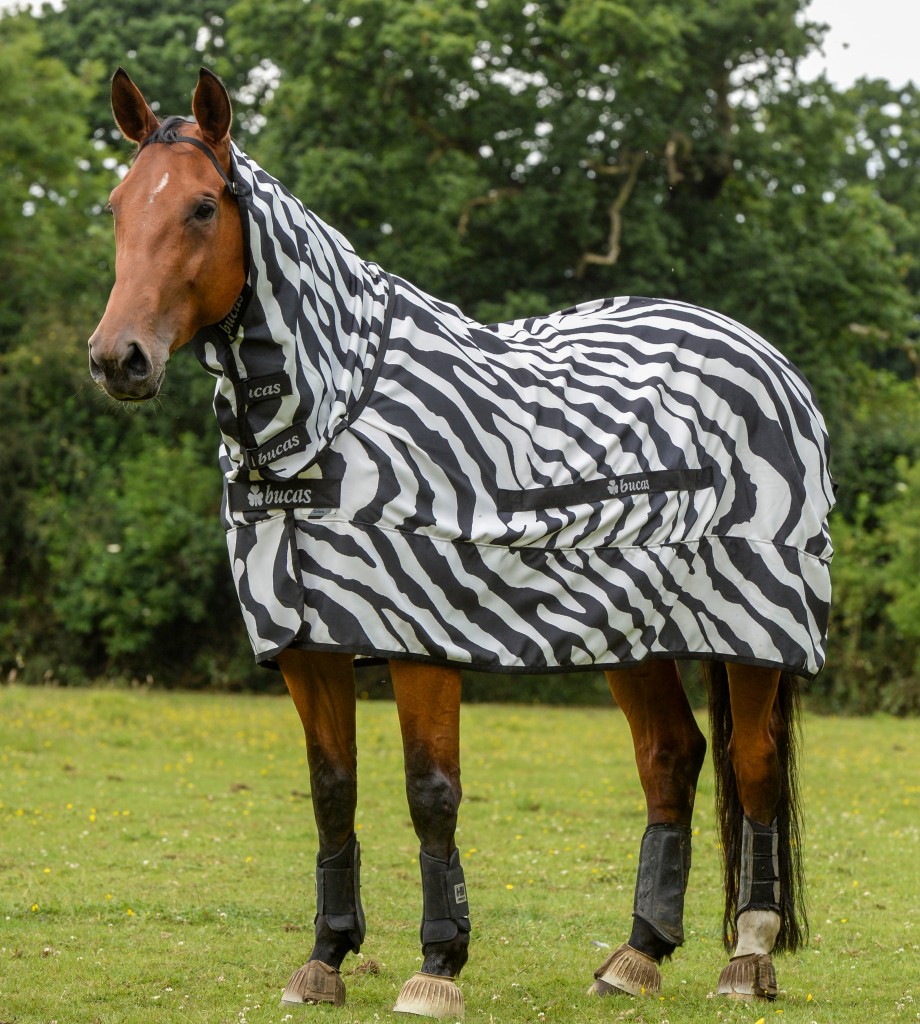 Sweet Itch Zebra Rug
The sweet itch Zebra Rug is made from a specially developed fabric that blocks entry from even the smallest of insects. Particular attention has been paid to the mane and tail areas ensuring that they are protected to prevent the itch - scratch cycle that is synonymous with Sweet itch.
The design is a full body cover, with a neck that reaches to the ears covering the whole mane area. An elasticated, detachable belly flap covers from the elbow to the sheath, offering protection to the horse's whole body.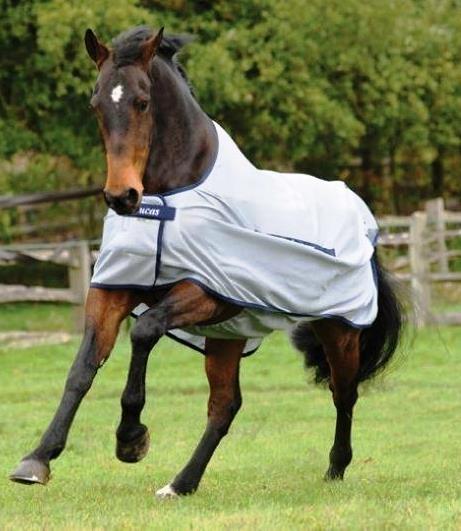 Buzz Off Classic
The Buzz-Off Rain is perfect when the weather is changeable. The upper part of the Buzz-off Rain is waterproof and breathable while the lower part is made of Buzz-off fly sheet fabric.
Waterproof and breathable upper with an additional Teflon outer shield
Shoulder darts ensure an excellent fit and plenty of shoulder room
Mesh lining on upper part to help maintain the circulation of air underneath the rug
Soft nylon lining of the shoulder area to prevent rubbing. Leg straps included
Attachment points for a Combi-Neck