The Trading Post Feed and Tack Ltd.
Box 188
3345 Island Highway,
Cassidy, B.C. Canada.
V0R 1H0.

Phone: 250 245-2115
Fax: 250 245-2186

Hours:
10- 5:00 Mon - Sat.
11 - 5 Sundays
Closed Stat Holidays

E-mail: thetradingpost@shaw.ca
Mere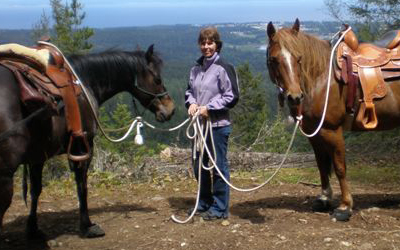 About Mere
Ever since I could walk I loved horses. Every birthday or Christmas, when asked what I wanted, the answer was always the same. "A horse!" When I was 13 years old, I brought a proposition to my mother. Diamond J Dude Ranch in Cloverdale would billet their ponies out for the winter. I could have my own pony for the winter!! Then, my mom said something that was life changing. … She said, "If you want one bad enough, you will find a way to get it." WELL THEN! I knew I wanted one bad enough, I just had to find a way……

I knocked on doors and found a place to keep her for $10.00 a month, right across the street from my school. My stepfather fenced the land and made modifications to the barn. I saved every penny and started looking the next spring. I saw one advertised in my price range and made arrangements to see her. Of course my mom drove me but before we left, she made sure I knew that "We're NOT buying the first horse we see and I was to get that idea out of my mind right now!". I would have agreed to anything just to go and smell it.

We saw the 2 ½ year old unregistered ¼ Arab, 3/4 something else Bay filly who was standing knee deep in mud, quite content to lick our hands for as long as we would let her. My mom turned to me and said "Do you want this one Mere?, she's a really nice horse." Of course I agreed and the owner delivered her the next weekend, riding her about 15 miles down the Surrey streets to her new home.

Shawnee wasn't all that pretty but she had a huge heart and would try anything I asked. During that summer both she and I went to Diamond J Dude ranch while my parents traveled and entertained company from Sweden. After a couple of weeks I was offered a job and stayed the rest of the summer earning a whopping $15.00 per week. I bought my first saddle with the money I earned that summer.

The next year, neighbours talked me in to competing in our first "Playday" at Hoy's stock farm. I remember thinking the night before…. If I could just win one ribbon, I would be the happiest person on earth. Well, I won a ribbon in every class and got the Hi-Point of the day! I was hooked and became a member of Townline Riders.

I was horseless from 1973 to 1982 and bought a horse just before moving to Vancouver Island.

In 1994 I attended a Parelli Natural Horsemanship clinic in Armstrong BC and "had my socks blown off!" The next spring we hosted our first of about 7 Parelli clinics, the first one with Pat himself. In fact, Pat's last ever Level 1 Clinic was here is Nanaimo. It was quite an experience!

After that, Pat and Linda Parelli invited us to their ranch where we helped to build the PNH International Study Center. I was invited to join Pat's Canadian Savvy Team. We traveled with our horses and performed in Cloverdale, Armstrong, Calgary, Stettler and Regina.

I now have a Quarter Pony, Molly and a Quarter Horse, Keeley. .
A Few of Mere's Favorites


You just don't see this every day
My sister's site
Kenzie came from here...
Great magazine!