The Trading Post Feed and Tack Ltd.
Box 188
3345 Island Highway,
Cassidy, B.C. Canada.
V0R 1H0.

Phone: 250 245-2115
Fax: 250 245-2186

Hours:
10- 5:00 Mon - Sat.
11 - 5 Sundays
Closed Stat Holidays

E-mail: thetradingpost@shaw.ca
Hi-Hog Farm and Ranch Equipment Ltd.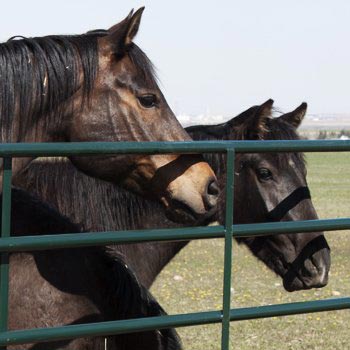 Hi-Hog Panels and Gates
All Hi-Hog panels, frame and gates, and overhead alley spreaders use a common connector system which allows you complete freedom to combine different weights without the need for adaptors.
All Hi-Hog panels and gates are built with 60 000 psi high tensile steel tubing; the highest in the industry. The higher the tensile strength of the tubing, the further you can distort the tubing before it loses its ability to return to its original shape.
* The actual panel length is 1″ less than the descriptive name. For example, the overall length of a 12′ panel is 11′-11″ measured from the outside edge of the connectors.
*The actual gate length is 5″ less than the descriptive name. For example, a 12′ gate is 11′-7″ long measured from the outside edge of the gate verticals