Head to Toe,
Nose to Tail
Outfitters!
The Trading Post Feed and Tack Ltd.
Box 188
3345 Island Highway,
Cassidy, B.C. Canada.
V0R 1H0.

Phone: 250 245-2115
Fax: 250 245-2186

Hours:
9 - 5:30 Mon - Sat.
11 - 5 Sundays and Holidays

Closed Christmas Day, Boxing Day and
New Years Day.

E-mail: thetradingpost@shaw.ca
Consignment English Saddles
Ovation Close Contact
18 Inch Wide
Excellent shape
Comes with Prestige Calf Skin Leathers
Flex Irons
Fleece Saddle Cover
$1399.99





17.5 Inch Legend
General Purpose
Made in England
Excellent Condition
Reduced to $749.99

16 Inch Joy Jumper by Prestige of Italy
Extra Wide (37 cm)
Excellent Condition
$1299.99




Santa Cruz - Jean Luc
17 Inch Wide
Close Contact
Excellent condition
Comes with matching Leathers and Irons.
$699.99



Santa Cruz Centauro
With Adjustable Tree
17.5 Inch seat
Comes with Adjusting Tool and Carrying Bag
$1999.99




14.5 Inch Mystic
General Purpose Saddle
Good condition
$499.00
16.5 Inch Crosby Miller
Close Contact Saddle
Good Condition
$299.99




Wintec Close Contact
17" Seat
Comes with 4 interchangable gullet bars
Excellent Condition
$599.00
Our Saddle Trial Policy: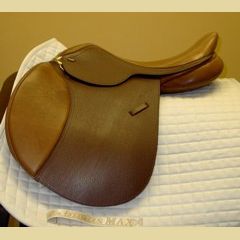 We believe a saddle must fit both you and your horse! Therefore, we almost insist you take the one you choose for a trial run. We will obtain a pre-authorization on your credit card and you'll have one week to see if it fits. We ask that you keep it in new condition.