The Trading Post Feed and Tack Ltd.
Box 188
3345 Island Highway,
Cassidy, B.C. Canada.
V0R 1H0.

Phone: 250 245-2115
Fax: 250 245-2186

Hours:
9 - 5:30 Mon - Sat.
11 - 5 Sundays and Holidays

Closed Christmas Day, Boxing Day and
New Years Day.

E-mail: thetradingpost@shaw.ca
Claire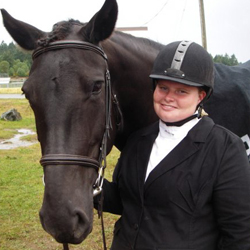 About Claire
I started working for The Trading Post Feed & Tack in 2005 just after I graduated from high school. This was a dream job of every horse crazy girl, so I jumped on it! ...

I have been a very lucky girl, as I have had horses around me all my life. My mom was competing at Preliminary and Intermediate levels of eventing in Manitoba just before I was born, which has given me the horse crazy chromosome gene. Between my mom and I, we own 5 horses, ranging from baby to retired. I enjoy being in the barn for endless hours a day, spending quality time with my critters, riding my pride and joy mare Excelle, playing with my youngsters, showing, trail riding, and best of all galloping across wide open fields.
I am a recent graduate of The B.C College of Equine Therapy.. .As a certified therapist, I am taking new clients and will continue to work alongside staff and customers at The Trading Post Feed and Tack..
A Few of Claire's Favorites
Mountain Horse Boots
Charles Owen Helmets
Whale Watching